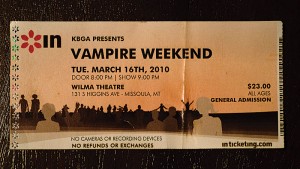 We were lucky enough to see Vampire Weekend a few weeks back at the Wilma Theater in downtown Missoula. Scheduled to play 3 shows in a row at Radio City Music Hall in September and with a current tour that has sold out almost every date, they have been gaining popularity rapidly in the last year or so.
The Blow opened, an interesting choice that we spectulated might be local, but turned out to be from Portland.
When Vampire Weekend finally came out the crowd was certainly receptive. Their songs are happy and fun, and the live sound was clear and bright like their records. Playing almost every song off of their new album Contra, and most from their self-titled debut, the energy level in the room was super high from start to finish.
Highlights for me included M79 with the crowd providing the intermittant 'whoas' and the choice of one of my favorite songs off their first album, Walcott, to finish their encore. I have listened to their 2 albums countless times and it was a thrill to see the musicians behind the music.
I didn't take a camera but it looked a lot like this, with the addition of a half-dozen or so chandeliers similar the one on the cover of their first album.
It was their 3rd time in Missoula and their first US show from their current tour.